Today my husband, Dan,  is stopping in here to share a recipe. I am daily thankful that he loves cooking for our family and takes the time to prepare healthy (although rather butter rich) meals for us and I am excited to have him share in this space.
Enjoy!
Around this house, I get the joy, and sometimes chore, of preparing dinner most evenings. Everyday is a new challenge of how to be creative, punctual, and health conscious with our meals.  Despite our efforts to form them into well-rounded eaters, our kids can be fussy about what they eat – and of course having five different tastes to contend with is a constant challenge. The kid who loves broccoli hates rice, the kid who loves rice hates chicken and the kid who loves chicken hates broccoli.
With that in mind, we find variety helps us hit a few more high notes at dinner. While we don't always succeed at it, more options and sauces on the side usually help everyone find something they can bear to swallow if we can't convince them to love it.
There are often complaints about why we have to eat foods they don't like but we keep serving them, requiring at least a taste and hope that it all evens out in the end.
Here's a peek at one such meal that nearly worked for everyone. It was enough food to feed all seven of us – although I would suggest that these amounts would more reasonably serve 4 -5.
Steak and (Sweet) Potatoes
2 Striploin Steaks (about 1″ thick – thickness will affect cooking time) – This amount of meat works for us as we don't eat a lot of meat, choose what works for your family
1 Large yam
4 or 5 Yukon gold (yellow flesh potatoes)
10 White mushrooms
1/3 cup of heavy (18 or 35) percent cream.
1-2 Heads of brocolli
1-2 lbs of brussels sprouts (I always err on the heavier side for these guys as all the kids like them, go figure?)
1/3 cup of vegetable or chicken stock
5 Tablespoons + 1 teaspoon of olive oil
3 Teaspoons of salt
3 Teaspoons of pepper
2 Tablespoons of Cognac (white wine would be an acceptable substitute, or beef stock for the teetotallers)
1/4 cup of butter
Cherry tomatoes, for colour, garnish and deliciousness.
Gather your ingredients being sure to remove the steak from the fridge so it has time to warm up a little – this will help it cook more evenly.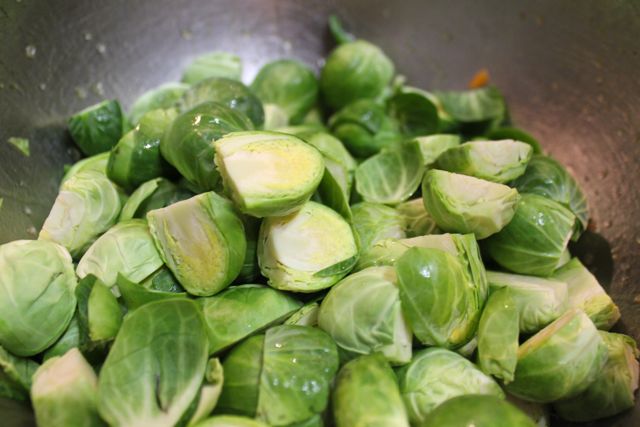 Prepare your brussels sprouts by cutting off the ends, peeling any undesirable leaves off, slicing in half (from the stem end to the top) and washing thoroughly in cold water.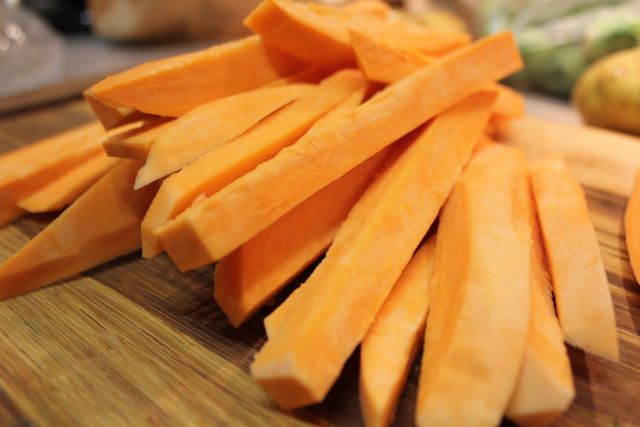 Preheat your oven to 385° F. Peel the yam and scrub the potatoes.
Cut the yams into long fries, 1/2″ thick and the potatoes slighter smaller- the potatoes take longer to cook than the yams so they need to be smaller to cook evenly.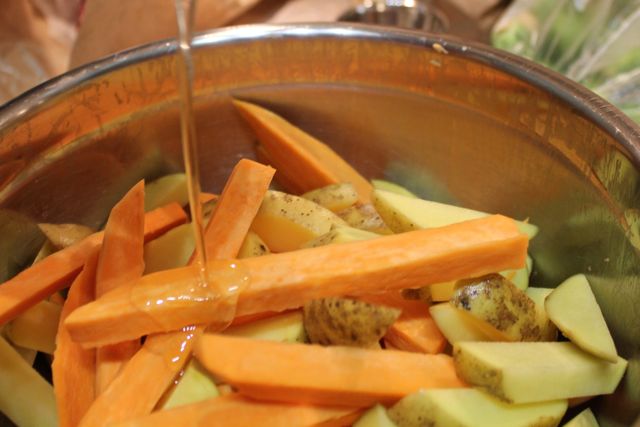 In a large bowl, toss them with the 5 tablespoons of oil, 2 teaspoons of salt and 2 teaspoons of pepper (the seasonings are really to taste – use more or less as desired).
Cover two pans with parchment paper and spread evenly with the yams and potatoes. There can be some overlap but best to avoid it for better crispiness (no soggy potatoes for me please).
Place them in the oven for 45 minutes, until nicely browned.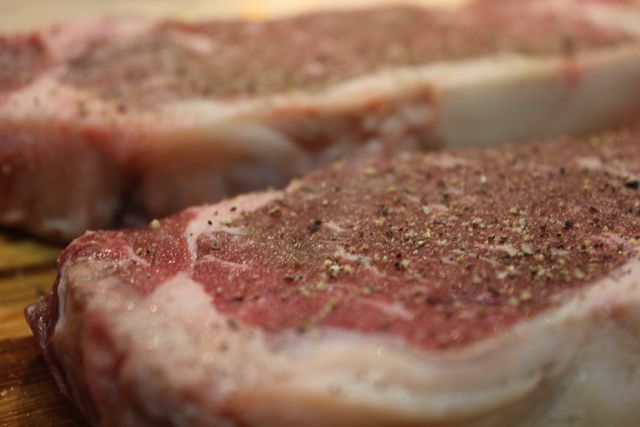 Now for the steak…Using a stainless steel or cast iron pan, heat the remaining teaspoon of oil and heat over high. Don't walk away from the hot pan at this point (this means you, Rachel). Dry the steaks with a clean cloth or paper towel and season with the remaining salt and pepper by coating them evenly on both sides. By now your pan should be ready, carefully turn the pan to spread the oil.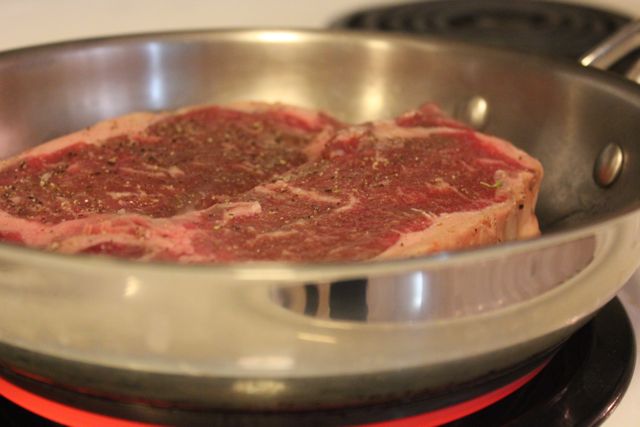 Keep the kids out of the kitchen, put the steaks in the pan, hear that wonderfully satisfying sizzle and cook on high for about two minutes. Then flip the steaks, turn the heat down to medium-high and cook for another two minutes.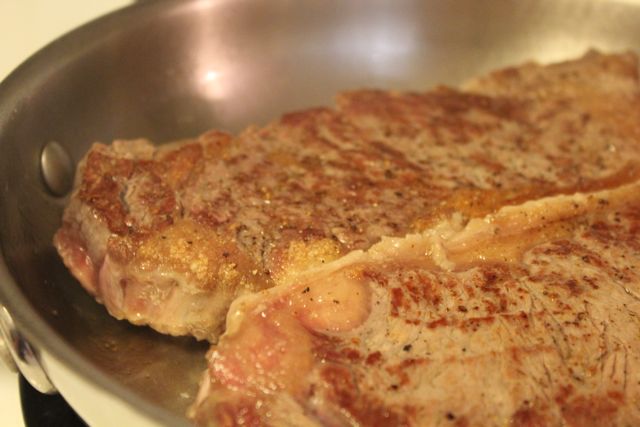 Remove the pan from the heat, place the steaks in a shallow oven-safe dish and then into the oven alongside your potatoes.
(For rare steak throw a piece of aluminium foil over them and let rest out of the oven.)
The steak should cook in the oven for about 5 mins for medium rare (this is a general rule of thumb and may vary depending on the thickness of your steak). You can estimate about another five minutes for each step up in doneness (ie. medium, medium well, well done).
Once the steaks are done cover them with aluminium foil. For a juicy steak, it is very improtant to let the meat rest for at least 10 minutes, otherwise the juices you want in the steak will end up on your plate or cutting board.
While your steak is in the oven and the pan is still hot, quickly add most of the cognac (reserving a small amount to add extra flavour at the end). With a hot enough pan, the yummy steak goodness should rise right off the pan but give it a scrape with a spatula if it needs encouragement. If your pan is too hot you may loose much of the cognac to evaporation, if it is going too fast put a little bit of water in to help cool the pan, but only about a tablespoon.
Yummy steak and cognac goodness.
Turn your burner to medium low heat and add a 1/8 cup of butter to the pan.
Once the butter has melted take a moment to marvel at the lovely sauce you've created, then toss in your mushrooms.
The mushrooms will quickly absorb the butter and cognac but not too worry, we'll get it back. Cook the mushrooms until they have reduced in size or until they are done to your satisfaction.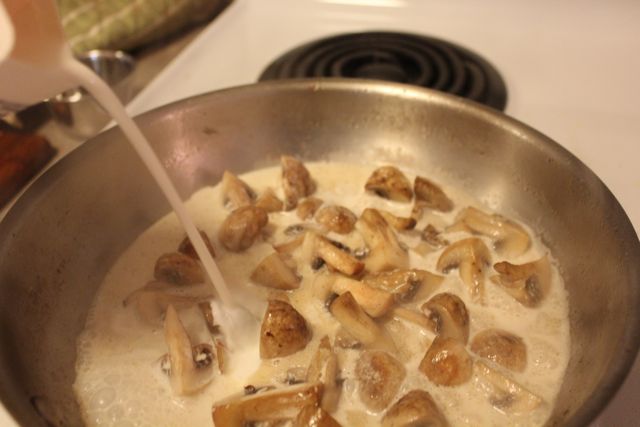 Once the mushrooms are cooked add the cream and watch your sauce come back to life.
Turn the heat down to low and add in the remaining cognac. If you have willpower take a small taste – if not, well you had better wait because there are vegetables to prepare.
The veggies we served with this meal are personal preference – again choose what works for you.
At this point I wash the broccoli florets, peel and cut the stems into strips (some of our gang prefer the stems) and set in a pot with an inch or two of water over a steamer basket.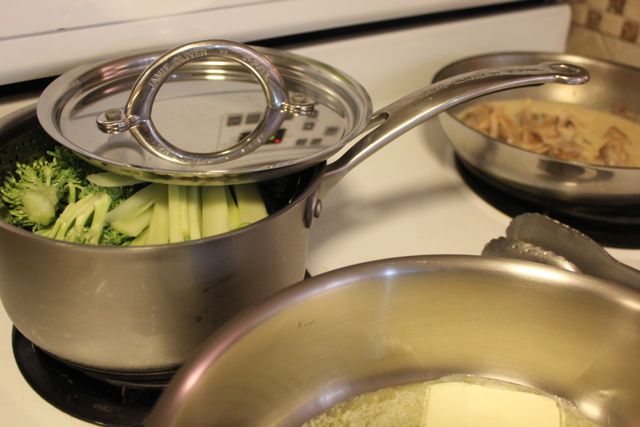 For the brussels sprouts, melt the remaining 1/8 cup of butter in a large pan over medium-high heat.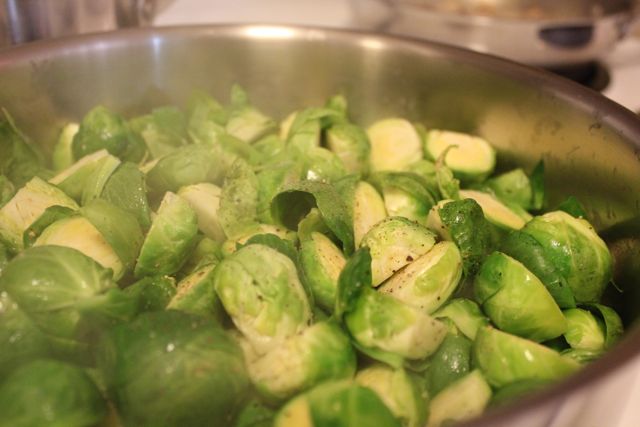 Once the butter has melted and is just beginning to sizzle toss the sprouts in. I usually give them a dash of salt and pepper but that's optional.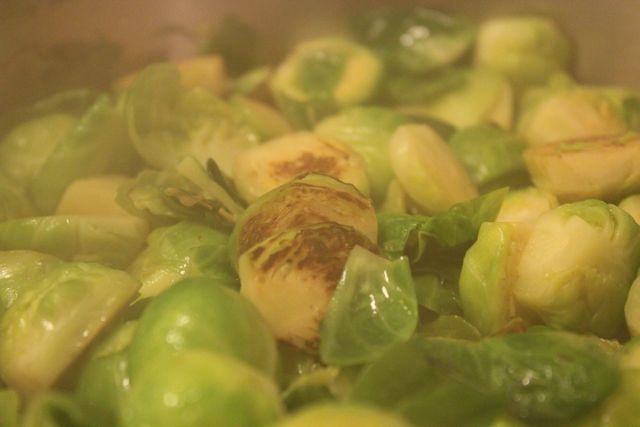 Toss the sprouts so they are evenly coated with the butter then let them cook for a while until you hear them sizzling, about 5-7 mins depending on how hot your burner is. Then mix them around so you can see the ones on the bottom. They should have a nice brown starting to form and the deep green of the raw sprouts will have slightly faded.
Turn the burner on to high heat under the covered pot of broccoli and steam until the florets are bright green (5-7 minutes).
Steamed vegetables can be a bit of trick because if you leave them in the pot after you turn off the heat they will still cook quite a bit – leading to mushy, overcooked broccoli in this case. To avoid this I carefully pour or strain the water out of the pot and then add some cold water to the bottom of the pot to hinder the vegetables from cooking further on their own.
Pour the 1/3 cup of stock into the sprouts and turn down to medium low heat and let simmer for another 5 mins and your done!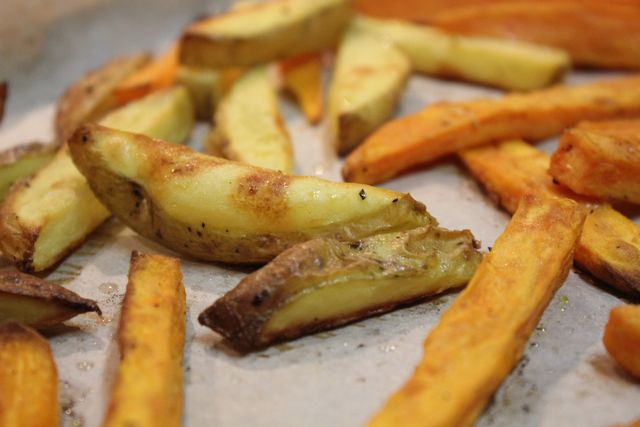 By this time your fries should been done or very nearly. They should look slightly browned with a nice crispy texture.
The steak should have had ten minutes or so to rest so it is ready to cut. Rather than serve the steaks whole, I slice them into 1/8″ strips – this has helped us cut down on our meat intake and lean more on the vegetables in our meal.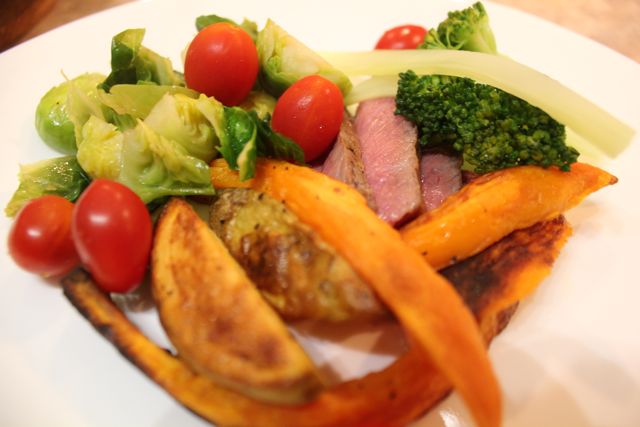 Serve either from dishes or plate individually. I often plate our food to avoid extra dishes on our already over-crowded table but also because it guides the kids in what we expect them to eat/try. It takes a bit more time but if done right it can add a little excitement to the meal – and with fussy eaters we'll take any excitement we can get!
I often garnish with cherry or grape tomatoes – they add a nice colour and the kids happily devour them.
I would suggest this meal should take 60 – 90 minutes to prepare, the vegetable preparation is really what can slow the process down.
I hope you will try this. If you do, or have any suggestions on how to make it better, please leave a comment. I'd be interested to hear any variations you try for your family. We're always looking for ways to keep our family happy with healthy food.